Why Do Wool Rugs Shed & How To Make A Wool Rug Stop Shedding
One of the most frustrating things about woollen rugs is when they begin shedding, causing them to lose their original shape as well as feel. Shedding can not only damage the appearance of your woollen rug, but also cause mess and can even become dangerous if swallowed by pets or kids.
Fortunately, there are some simple and highly effective ways on how to make your wool pile rug stop shedding.
It's worth noting that if you've recently purchased your wool rug, either from Rugs Direct or elsewhere, early shedding is common. However, if this continues for more than a few months, then there may be a few factors contributing to this.
Before we continue, if you are in the process of buying a new wool pile rug due to your old one shedding too much and losing its fibre and comfort, why not take a look at our cosy wool and shaggy rug collection? Our wool rugs are designed with durability and comfort in mind, and you won't find our rugs shedding after a few months!
Before knowing how to make a wool rug stop shedding, you will need to know how the rug was made and what it's made from.
FIRST, THE MATERIAL
The lifespan of your wool rug and how much it's prone to shedding will depend on the material(s) it's made from. Wool pile rug materials vary in quality depending on the supplier you buy from, as well as the different types of wool. For example, wool from sheep can vary massively in quality – wool taken from mountainous sheep is often far more durable and has a noticeably higher quality than sheep reared in lower lands (their wool is typically rougher).
Most wool rugs aren't 100% wool and opt for using adhesives to help bind and fortify the surrounding wool for a fuller, more comfortable finish. However, with the inclusion of adhesives comes the risk of shedding. Overtime, the adhesive breaks down and the tiny pieces break away from the wool rug, which is why you should always go for a rug that is either 100% wool or close to it.
Note: It's worth remembering that all rugs, whether they're wool or not, are prone to wear and tear over the years. However, you can extend the lifespan by buying a quality rug from Rugs Direct. We offer every type of rug imaginable, from wool and shaggy rugs to durable flatweaves, outdoor rugs and traditional Persian, Moroccan and oriental style rugs.
SECOND, THE MAKE
The other major factor is how the rug was made. There are a few main ways rugs are made, which are:
Hand-made rugs are created with personal care and dedication to offer better structural stability
Hand-knotted rugs are made from thousands, sometimes millions of threads that are knotted to the rug's donations
Hand-woven rugs are made by passing a warped through the carpet's weft, this means every part of the rug plays a part in retaining a sound structure and generally enhancing durability to withstand heavy foot traffic
Then there are the more modern techniques, which generally revolve around machines creating rugs. One of the most common techniques is known as hand-tufting, which uses a tufting gun that lays fabric "tufts" (hence the name) onto the rug pad, which are then glued.
The glue keeps the tufts in place, but this technique doesn't lend itself to durability or longevity, as the glue can come loose and cause the rug to shed over time. Constant foot traffic will also see these types of rug shed faster and more frequently than the other three rug designs.
Machine-made rug's main benefit to the consumer is price. Quality, hand-made wool rugs can be expensive, but with this comes less shedding, fewer loose fibres and generally higher quality and far more comfortable rug.
FINALLY, THE BIGGER THE BUDGET, THE BETTER THE WOOL RUG
Simply put, if your rug is of poorer quality (i.e., mostly machine-made), it's prone to quicker wear and tear and fibre loss. Wool pile rugs that are hand-made have better structural integrity and durability.
Although it requires a bigger budget, always opt for superior quality wool rugs from reputable sources like Rugs Direct. We offer 100% wool rugs among other wool and cotton alternatives to offer our customers a rug that retains its exceptional levels of comfort and durability throughout the years.
HOW TO MAKE A WOOL RUG STOP SHEDDING
Now, if you've already bought a wool rug and have noticed it's shedding more than it should, here are a few key tips to help minimise the shedding.
1. Buy a rug rake or brush to care for your wool rug
Using a special rug rake, rake or brush your wool carpet outside to remove any remaining loose fibres. This should be done weekly to ensure the rug remains fresh and clean, removing any loose debris and fibres.
2. Trim the tufts
If tufts of wool are emerging above the rug's surface, using a sharp pair of scissors, trim the tops to remove that fuzzy appearance. It's common for wool pile rugs to experience some light fraying, and by trimming the tops, your rug not only feels better to touch, but also looks cleaner and cosier. Trimming the frayed ends can also help to shed because it's these frayed ends that end up being part of the shedding. Run your hand over the rug and collect any loose ends and pop them in the bin.
3. Vacuum your rug
A nice and easy one! Regularly vacuuming your rug can help clean out and remove any loose fibres that cause shedding. If your wool rug is relatively new, it's important to vacuum it at least once or twice a week, as this is when it'll be most prone to shedding. Avoid heavy-duty vacuums as these can rip and damage the rug.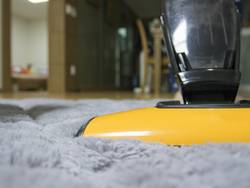 There you have it, there are the main ways on how to make a wool rug stop shedding! If you're in the process of purchasing a brand new wool rug, why not explore our range of 100% wool rugs? You will have less to worry when it comes to maintenance and upkeep of your wool rug and we can personally guarantee their premium quality. For more on rug care, take a look at our handy guide on how to care for your rugs.
Vouchers to save at Rugs Direct
Looking for promotional codes and vouchers to shop and save at Rugs Direct? Check out our website for the latest coupon codes! We update the available list on a daily basis to ensure that you get to save when shopping online. To get the best and latest promotional codes, browse to the top of this page.
We are dedicated to helping our loyal visitors get discounts from as many online shops in the UK as possible. We have listed over 20,000 online shops based in the UK on our website each with a wide range of vouchers and coupon codes.
You will notice that there are vouchers for specific products and there are those for an assortment of products. Each of these vouchers can be used in the UK. We also offer promotional codes from brands and stores in China, Brazil, and Europe. This way, our loyal visitors will save when shopping internationally.
To find voucher codes on our website, we have selected the best voucher codes for Rugs Direct and placed them at the top of this page. As a result, we have saved time for our loyal visitors. So, if you are shopping at Rugs Direct, use coupon codes from our website. That way, you will save and enjoy your shopping experience.
What is a Rugs Direct voucher code?
This is a unique code generated by a computer algorithm designed to offer you discounts on your next order. Also referred to as a promotional code, discount code or promo code, online stores from around the world use the alphanumeric code to offer discounts to their customers.
How can I use Rugs Direct discount code?
Our voucher codes can be used in two ways. In method one, click 'SHOW CODE', copy and paste it into your shopping cart. Method two is where you click on 'VIEW OFFER' and you should be directed to the webshop. Here, the discount will be applied immediately.
How to locate voucher codes at 1001vouchercodes.co.uk?
Start by looking for your favourite store using the search function at the top of this page. If you are in search of a specific brand or product, type the name in the search bar. You can use the following function 'CATEGORIES' or 'SHOPs A-Z.'
You can also copy the voucher from Rugs Direct by clicking at 'VIEW OFFER' or 'SHOW OFFER.'
If the voucher code is not showing, copy it by clicking 'COPY'. If the modal is not showing, click on the big blue button with the label 'VISIT Rugs Direct.'
At Rugs Direct, you can select one or more products and add them to your shopping cart. Once you are done shopping, take a close look at the shopping cart for the space made available for your promo code. Before checkout, enter the discount code in the space provided and it should be applied automatically.
Check to ensure the voucher code is added correctly. If the voucher is not valid, then it has expired. In addition, the voucher may be valid for another product. In such a case, get another voucher code that applies for that product. Don't forget to read the terms of the discount code.
If you are successful in applying the code, share our website, voucher codes, promotional codes and offers with family and friends so that they can save too.
FAQ
Are there any discount codes available for Rugs Direct?
At the moment there are 0 codes available and 2 offers at Rugs Direct.
How much benefit can I get from Rugs Direct?
In the past 30 days, 0 visitors saved an average of 50% at Rugs Direct. There are sometimes also free shipping promotions active.
How can I redeem a Rugs Direct discount code?
To use a Rugs Direct coupon, copy the code with the mouse and paste the code into the appropriate field during check out. Please note that discount coupons sometimes do not work with all orders. Sometimes you can also redeem the coupon at the physical store.
How many offers does Rugs Direct have on average?
There are 0 codes available today and 2 offers at Rugs Direct. On average, Rugs Direct 0 2 has coupons and/or promotions online
Are the discounts valid for everything on Rugs Direct?
You can save money at Rugs Direct by using one of the current Rugs Direct coupons from 1001vouchercodes.co.uk. At the moment you can save a maximum of 50%.
Until when are the discounts valid on Rugs Direct?
Each promotion code of Rugs Direct has an expiration date, the code can only be redeemed before this date. Some Rugs Direct offers do not have an expiration date, then the promo code is valid until Rugs Direct runs out of stock of this item.
The entire content of this site is copyrighted (all rights reserved © 2022).